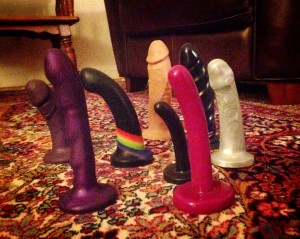 If you know me at all, either in real life or on the internet, you probably know I'm a strap-on enthusiast. Not only is strap-on play a favorite in my personal repertoire, but it's something I teach a variety of classes on (more on that below.) So it wasn't a surprise when I got a Facebook message from a friend asking me for pegging advice.
It got me thinking about my first adventure with anal sex. I was only 18 and I was with a partner who I'd been doing a lot of exploring with. I remember being very turned on and very eager and telling him to penetrate me when, in retrospect, there had been very little warm-up.
I remember the immediate burst of pain and having him pull out.
These days I'm well-versed in the importance of warm-up, and I go through near industrial amounts of lube.
Because my friend just asked me what dildos I recommend for pegging and what other products I like, it seemed like the perfect time to put that information out there for everyone. Sometimes I don't know what people don't know until someone asks me. It's also the perfect lead-in to some product reviews I've been working on.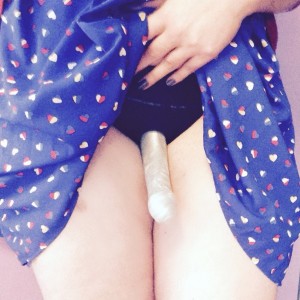 First the advice I gave my friend: start slow, and start small. You want to do an awful lot of warm up before you try anal penetration. The good news is, external anal massage feels great, so it's easy to let that be the main course. When you are ready for penetration, start with just one finger or a small toy. (A toy that's made for anal play!)
It's great to let the person being penetrated control the rate of penetration. Let them push back or push down onto you, or let them hold your hand or the toy. Two of my favorite starter toys (that remain fun when you're experienced) are the aneros and the silk. The aneros you control by hand (and it can be left in place for hands-free play) and the silk can be used by hand or used with a strap-on harness. In fact, I still often use this one with my harness as a warm up before switching to a larger toy.
When the switch to a larger toy happens, my next go-to is the Charm. This is an ideal pegging toy for people with prostates. It's also my own personal go-to when I'm warming myself up for anal sex.
But strap-ons aren't just for butts! And that's a good thing, too, because the two toys Good Vibrations recently sent me to test have serious girth.
A lot of the dildos in my personal collection were purchased with pegging in mind, and I've been wanting some bigger toys to use for when I have the opportunity to use a strap-on with another woman.
I tend to take any job I'm given very seriously so I wanted to make sure the Rippler and the Captain went through rigorous testing before I wrote them up. That means I've spent a few weeks with them. I've tried them on myself, and on partners. I even took them to a queer sex party out in the woods, and it's a good thing I did, because I found a perfect test subject.
For my body, these two toys are BIG. So when I found a playmate at the party one of the first questions I asked was whether she was a size queen. She answered with an enthusiastic 'yes' and I knew I'd found my first tester for the Captain.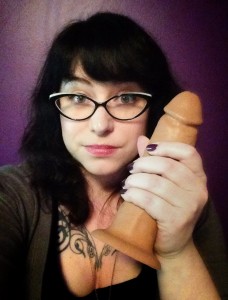 Before now, I've always shied away from realistic dildos. I'm more of a pretty colors and sparkles kind of person. But the Captain is really winning me over. It has some serious heft (it's possible I also tested it as an impact toy…) and it's really satisfying to wave around.
An especially neat trait of the Captain is the duel density silicone. That means it's firm on the inside, and softer on the outside. It has a realistic feel and the softness creates some added comfort which is much needed in a toy of this size.
The only drawback of the soft exterior is that it's more likely to pick up fluff. I live with two cats and two dogs, so that's a real issue. But it's a small price to pay for the silky feel, and giving it a rinse before use is a good idea anyway.
I know the Captain is going to be a favorite in heavy rotation, and I'm already looking forward to my next chance to use it. Not only that, but it's size makes it especially fun to wear with a harness, even if you won't be using it for vaginal or anal penetration – it's a nice treat to watch someone fit it into their mouth. (Non-bio blowjobs are lots of fun too!)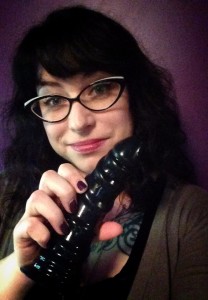 Next up, the Rippler. This toy is also girthy, but without the added soft layer of the Captain. The girth is pleasurable for those that like a large toy or the feeling of fullness, and the ripples amplify that effect. Luckily I enjoy a firm toy, and some of my favorites are even stainless steel or glass, so the Rippler's unforgiving material isn't a downside for me.
When using this toy with a harness, you need to be pretty careful of your angles, because a miss can be painful. But when you've got the right rhythm going, the results are marvelous.
One last shout-out for lube – not only is it necessary for all anal play, and super helpful for using bigger toys vaginally – but you want to use the right lube for the job. As these are silicone toys, be sure to use water based lube with them. I stuck with my favorite, Sliquid, my regular go-to for just about all my lube needs.
Oh, and those classes I mentioned above? One of them is coming up in Seattle on July 9th. If you're in the area, come check it out. Not only will this class have a lecture and (live!) demo, if you buy a duo ticket you can stay for a third hour of practice, and I'll be there to help trouble shoot and answer questions. Buy Tickets.
---
There are affiliate links in this post, so if you follow a link and purchase something I'll get a commission. Not only are these fabulous companies to support, but this arraignment helps me make a living as a sex educator.
More shopping options:
Tantus – You can use the code STELLA15 for a discount.
SheBop – My local sex positive, sex toy store, where I'm a regular teacher.
Good Vibrations – The fabulous provider of the test-dildos in this post.
xoxo,
Stella