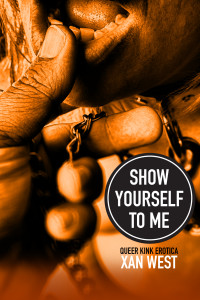 One of the most popular topics I work on in classes and with private clients is communication skills. And a common question I'm asked by students and clients is how they can ask for what they want, when they don't know what they want.
This leads us to work on finding fantasies and exploring desire. One of the first tools I suggest is reading erotica. Erotica is a great way to get a little taste of something new, from the safety of your own living room.
You don't need to get decked out in leather and find the local dungeon to see if you'll like kink – you can read a few stories and see if you find them hot. For many people, this is a much more comfortable way to begin exploring.
As an educator and coach, it's valuable to me to have a list of titles to suggest and I'm always overjoyed when a new book comes out that will fill a much needed gap on my shelf.
And oh, does this book ever fill some gaps. The range of characters represented in Show Yourself To Me is impressively inclusive. Many readers who don't usually find themselves represented in the pages of erotica will find a character to resonate with here.
From the official description:
"In Show Yourself to Me: Queer Kink Erotica, Xan West introduces us to pretty boys and nervous boys, vulnerable tops and dominant sadists, good girls and fierce girls and scared little girls, mean Daddies and loving Daddies and Daddies that are terrifying in delicious ways.

Submissive queers go to alleys to suck cock, get bent over the bathroom sink by a handsome stranger, choose to face their fears, have their Daddy orchestrate a gang bang in the park, and get their dream gender-play scene—tied to a sling in an accessible dungeon.

Dominants find hope and take risks, fall hard and push edges, get fucked and devour the fear and tears that their sadist hearts desire.

Within these 24 stories, you will meet queers who build community together, who are careful about how they play with power, who care deeply about consent. You will meet trans and genderqueer folks who are hot for each other, who mentor each other, who do the kind of gender play that is only possible with other trans and genderqueer folks."
Are you hooked yet?
To learn more about the author, Xan West, read excerpts from the book, or see all the stops on the blog tour, visit Xan's website, Kink Praxis
Buy your copy from Go Deeper Press (one of my publishers, too!) or Amazon.